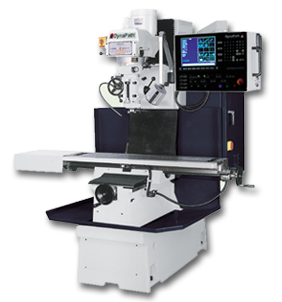 500 Bed Mill
Exceptional Value for a Small Bed Mill
The DynaPath Model 500, 3 axis bed mill is a must for tool rooms and machine shops. Its 3 HP back geared head provides smooth metal cutting through a wide range of speeds. The generous 31" x 15" x 19" travels, coupled with a table capacity of 1,340 lbs., provides for a wide range of jobs to be handled efficiently.
•
Specifications
•
Standard Accessories
•
Optional Accessories
The DynaPath 500 is extremely versatile, it can be operated as a full 3 axis CNC, a full 3 axis CNC with a manual operated quill head or as a manual milling machine using the handles and operating in the DRO mode of operation. The 500 series bed mill is a perfect replacement for an old worn-out Bridgeport Milling Machine.
Standard equipment includes: 3 HP quill head, handles for manual operation, flood coolant, auto lubrication, vari-speed spindle with M03/ M04 operation.
500 Bed Mill Standard Accessories

DynaPath Delta 2000M CNC Control with Standard Features, 12" Color LCD
Cast Iron Bed with Hardened and Ground Slide Ways
Vari-Speed Spindle
Back Gear
Weight 4,250 lbs.
X,Y,Z, Travels: 31" x 15" x 19"
Flood Coolant System
Auto Lubrication System
Halogen Work Light
Telescoping Way Covers

500 Bed Mill Optional Accessories

Electronic Handwheel
Power Draw Bar
DRO Scale on Z axis Quill
CAT#40 Taper Spindle
CNC Rotary Table Package
Clamping Kits
Digitizing

500 Bed Mill Specifications
Work Table
10 x 50"
Table T-slots (W X H)
0.63" x 35
Table load max.
1000 lbs (CENTER)
X axis travel
31"
Y axis travel
15"
Z axis travel
19"
Spindle nose to table
4"~23"
Spindle center to column
17"
Spindle taper
N.S.T. #30
Spindle speed / vari-speed pulley
70~4000 R.P.M.
Spindle motor
AC 3 HP
Frequency / Inverter
OPT
Coolant pump motor
1/8 HP
Quill diameter
3 3/8"
Quill travel
5"
Quill feed
0.02", 0.04", 0.06"
Cutting feed
250 ipm
Rapid feed
250 ipm
Floor space (L x W x H)
112 x 57 x 80"
Weight (Approx.)
4250 lbs
Packed size (L x W x H)
67 x 65 x 86"
Positioning accuracy
±0.0004"
Repeatability accuracy
±0.0002"